GIOCATTOLO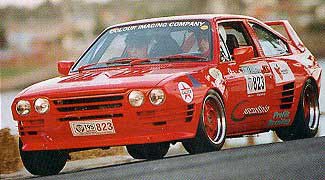 This car has been the subject of much debate on the Alfa Digest Mailing List.
I don't know too many details - but believe it to be an Alfa Sprint which is modified to have a 400 HP V8 engine mounted behind the front seats (mid engine layout). These cars were modified in Australia and only a small number (only 16) were ever made.

History and development of the Giocattolo:
In early '86, Paul Halstead, exoticar entrepeneur elisted designer Barry Lock to work together on the project of converting a regular Alfa Sprint coupe to have the GTV6's 2.5 V6, and driving the rear wheels. By the end of '86 the car was ready to drive.
It performed well, with major modifications to almost all the components of the cars structure. The front suspension was mostly Alfa, the disc brakes were replaced with ones from Brembo, the transaxle was ZF and the rear panels were done by Lock, who also reinforced the rest of the chassis.
Trouble eventually occurred when Alfa Romeo were sceptical about continuing supply of the V6 engines, and when the 3.0 Litre V6 was finally imported, it proved too expensive. Then later, Alfa stopped Sprint imports into Australia.
So, it was eventually decided by Halstead and Lock to opt for a motor offered in the General Motors Holden Commodore (an Austalian variant of the Opel Omega). The engine was a 5.0 V8 which had a power output of 220kW and roughly 500Nm of torque. The result was a car which was 1085kg in weight and quicker than a Countach to 100km/h and only slightly slower than a Porsche 911 Turbo over the quarter mile. It had a top speed of 240 km/h. The handling was said to be superb.
Unfortunately it did not sell very well, but at only A$80,000, it was a real bargain. In 1989 the venture died, and only 16 cars were ever built, but during that time, all the cars were produced in V8 spec, including the first original.